What are Dental Implants?
Millions of people around the globe suffer tooth loss due to various reasons such as direct trauma, road traffic accidents, tooth decay, and periodontal disease. For many decades, the restorative options available were dentures, bridges and root canals. The most promising benefits of root implants is that they are more secure and they last longer. Most dental implants continue to work properly after ten years.
Nowadays, most dentists recommend having a dental implant instead of dentures, bridges, or a root canal, especially in case of severely damaged teeth.
A dental implant is an artificial replacement of the original tooth that looks and functions like the real tooth. The procedure uses a metal device (a screw-like post) to replace damaged or missing teeth. The implant will be inserted to your jaw and it will integrate with your bone. This will allow you to prevent serious problems from occurring and you will be able to use your teeth for many years.
There are many FUNCTIONAL and Aesthetic advantages to dental implants, such as::
Improved appearance – They look and feel like your own permanent teeth
Improved speech – They improve your speech and allow you to speak without the worry that teeth might slip
Improved oral health – Dental implants improve oral hygiene and long-term oral health
Improved self-esteem – Dental implants help you feel better about yourself and give you back your smile
Durability – With good care, implants will last many years or even a lifetime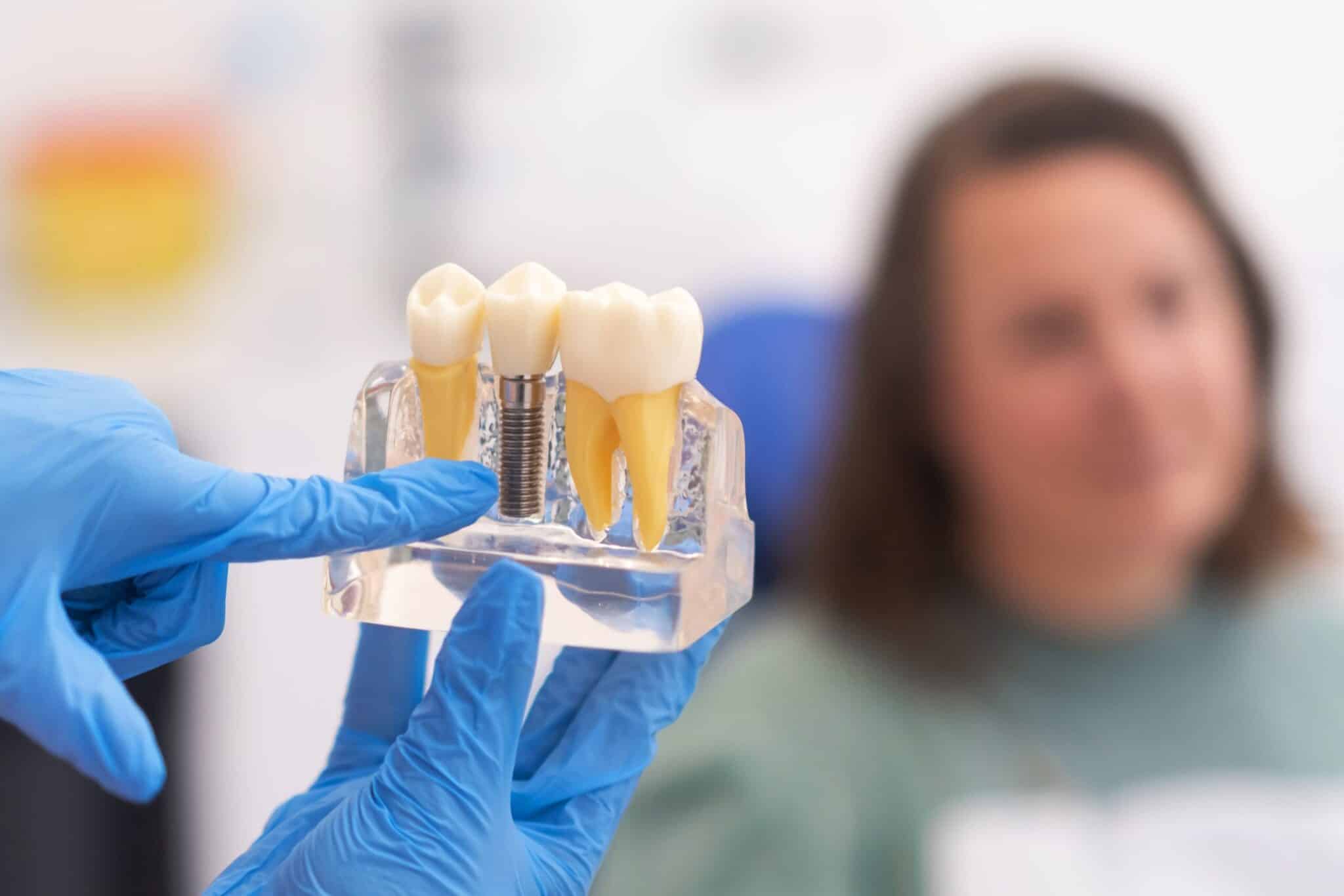 At Chaves Dental Care, we use a guided implantation technique for the placement of the implants.
Obtaining the CBCT (cone beam computed tomography) from the patient is the first step in guided implantation. This X-ray imaging technique allows dentists to visualize the patient's dental framework in 3D. This way, a detailed image is generated with computer software by superimposing the patient's mouth scans and CBCT.
Afterwards, planning of the implant placement is done according to the anatomical characteristics and CBCT results of the patient. The next step involves choosing the right type of implant and designing a surgical splint that guides the surgeon during the surgical intervention. After the designing work, the file is exported and printed using a 3D printer in different biocompatible materials.
To obtain a greater stability, the splint is placed resting on the adjacent teeth. It is followed by the drilling process and placement of the implant according to the previously planned position as suggested by the CBCT.
The time frame required for this procedure depends on several factors – such as your age, general dental hygiene, compactness of the jawbone and other associated body conditions. After placement of the implant, your dentist will wait for a few good weeks or months to let the area completely heal. A Crown – the upper or visible part of a dental implant (that looks like a tooth) – is placed in the second phase to complete the procedure.
Due to a high success rate, the dental implants have been lauded as one of the safest, effective and modern advancements in the dental surgery. Implants can last for decades as they are made up of resilient metals such as titanium. The risk of infection, once the implant has been placed is less than 1 percent.
At Chaves Dental Care, dental specialists draw on their vast experience to help provide dental implant treatment and care exactly the way that you need. Each year, our highly skilled doctors and nurses perform dental implant procedures to replace missing teeth in hundreds of people. We have a multi-specialty team, including prosthodontists (specialists who deal with dental problems that involve restoring missing teeth), periodontists (experts in diagnosis, treatment, and prevention of periodontal disease), oral and maxillofacial surgeons, and ENT specialists that work together to provide a customized solution for you. We are determined to provide the finest quality dental implant services with a computerized surgical guide that reduces the chances of complications and increases the rate of success.
Contact us today to schedule an appointment and learn more about our dental implants treatments.