What is the All-on-6 procedure?
The All-on-6 implants consist of a complete dental prosthesis that is secured to your jawbone or mandible with six titanium implants. This is prescribed in case the patient is missing all or most of his/her teeth, or if there is severe deterioration of many teeth. With this implant, you will have your chewing function, your smile, and your quality of life back.
All-on-6 versus All-on-4?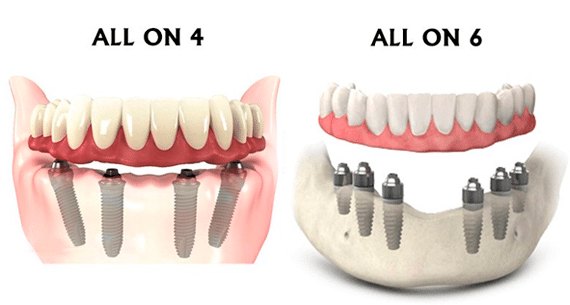 Some differences among the procedures are that the All-on-6 implants will allow better chewing distribution and a more stable implant. On the other hand, the All-on-4 has a shorter recovery period, but it also needs the use of a half denture, whereas the All-on-6 is completely integrated into your mouth.
At Dario Chaves Dental Clinic, we will assess your needs and suggest the best alternative for dental implants for your specific case.
How does the All-on-6 procedure work?
With the All-on-6 procedure, the first step is to place six dental implants on healthy gums. Then, for several months a temporary prosthesis will be worn to allow the healing of the gum. Finally, 2 to 6 months after the implants were set, the prosthesis implantation will occur. It usually requires two sessions with this time apart. Additionally, if the bone is too thin or weak, you may also need a bone graft before the implant procedure begins.
The success rate of this procedure is 98% and the implants may last between 10-30 years with good care. Immediately after the procedure, following your dentist's instructions on what to eat is important until you fully recover your chewing function.
The All-on-6 procedure at Dario Chaves Dental Clinic will not only recover your beautiful and fully-functional smile, it will also prevent bone degradation, and it is easy to maintain.
Contact us today to schedule a consultation and learn more about our All on Six procedure.